"The track is named "Recovery" for both physical and mental aspects. I recorded it in a state of healing, wishing for it to be some sort of message for hope. Also, it is one of the first songs where I played all of the instruments."

TromBobby
THE RELEASE
Release Schedule:
Jan 14th, 2021
This year is all about healing, about recovering from the marks that 2020 has left on each one of us.
Bulgarian producer & multi-instrumentalist Trombobby brings his a-game in this diverse jazz & funk-driven instrumental hip hop piece, combining all his experience and passion he's gathered from the years working with various artists in Sofia's thriving beat scene.
The slightly intense, more upbeat first half pays a tribute to the struggles, while mid-track you can find clarity and calmness, easing out with that heart-warming flugelhorn, reminding us that everything's gonna be alright in the end.
Becoming yourself again is the destination but the journey is what's really important.
"Recovery" is Trombobby's first release with Stereofox Records and one of the first tracks he's played all the instruments in.
THE ARTIST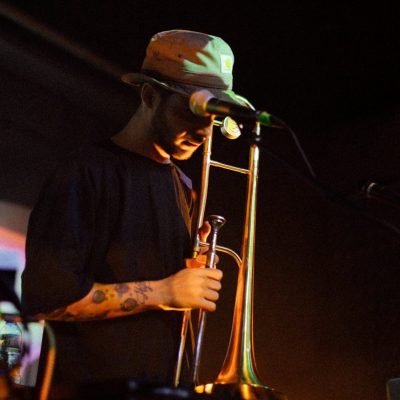 TromBobby
TromBobby combines his long-time passion, the trombone, with peculiar beats for a truly unconventional and contemporary sound. Studied jazz trombone at Conservatorium van Amsterdam, his unique production style and live instrumentation brought him features on Spotify's Orbit, Apple Music's BEATstrumentals and TIDAL's Rising Deutschland and support on BBC Radio 1. Also, a winner of The Kount Challenge 2021.
Featured on Apple Music's BEATstrumentals, Spotify's ORBIT editorial, and TIDAL's Rising Deutschland, Grooves: Deutscher R&B
Winner of The Kount Challenge 2021
"LONGING" radio play by Amazing Radio (US), SoulTracks (USA), El Rocanrosaurio (MX), Radio Krimi (FR), Bulgarian National Radio (BG), Radio Nova 98.9 (PT),

Rádio Armazém

(BR)
Radio play on BBC Radio 1 (Sian Eleri) for "Carefree"
Nominated for Forbes 30 under 30 Bulgaria
2.1M Streams across all streaming platforms
Added to 8.7k+ independent playlists on Spotify
His music (with DAYO) was used by Will Smith on his official YT channel
Performed live on Bulgarian National TV
Interview for RCRDLBL, feature on EarMilk, SoulTracks, The World Is Bond, FLEX, Italmassive,  album review on TwistedSoul
#6 on hypem Popular Charts ("BOX OF CHOCOLATES")