"The Man From Nowhere is what I consider some of my best work to date. I wanted to take people on a journey, one that isn't necessarily linear. A journey through time and healing as I reveal all of these different parts of myself through song. I didn't let genres or what's contemporary move me in any specific direction. The concept for the album is an allegory for my real life. I wanted to create a story that felt fantastical for this project, almost like an urban myth. The man from nowhere is a deep exploration, a mission to find something new. Within that process, I found healing and a whole new sound to along with it."

Rodney Hazard
THE RELEASE
Release Schedule:
Oct 21st, 2022
Genres:
R&B / Soul, Beats
The man from nowhere lives alone in a palace, at the top of an urban kingdom, a metropolis if you will. He locked himself in there, isolated so he can focus on music for the rest of his time within the dimension with no distraction. And now, as a result, his hands turn into heavy blocks of stone and he can no longer continue.
As time moves forward, he learns that in order to heal, he has to go outside. The man from nowhere has to connect with the world again and dream out loud so he can be able to create his music.
As the man begins to travel, creating through his dreams, he starts to heal. The process is very slow and the stones are very heavy, but over time they gather moss and nature becomes a part of him.
After the success of his previous release with Stereofox, now, Rodney is leaving the "Sandcastles" and is expanding his approach with a darker touch. But the smile on his face is getting back as the clouds surrounding him sound just like he imagines. And we are here to follow him on his journey.
One of the artist's goals with the new album is to connect with his fans in a more interactive way. The single "Rainforest", following the release of the focus track "VelvetRope" will be presented to the world via custom animations, which are going to be connected with the storyline of the main character in the EP. The artist is also working on a physical & digital booklet product, which will be released as official merch shortly after the premiere of the album. The booklet itself will contain more exclusive content, lyrics & visuals. These elements will connect the last pieces of the puzzle and the idea behind the creation of the album.
THE ARTIST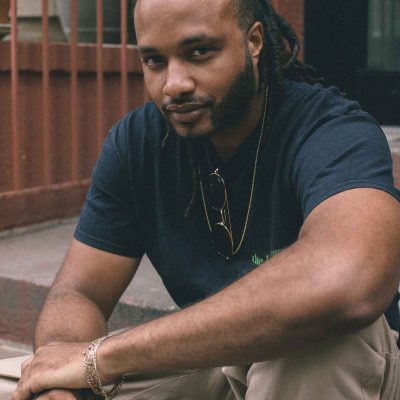 Rodney Hazard
Rodney Hazard is a multidisciplinary artist and creative director based in Brooklyn, NY that boasts an impressive repertoire of musical and visual art collaborations. With his lucid, emotive production, he's worked with artists including multi-platinum recording artist Bipolar Sunshine, members of the A$AP Mob, Nessly, Meyhem Lauren, AZ, Lais, Joe Budden, and more.
1M+ streams combined across DSPs
Featured on Spotify's Chill Tracks editorial
Support on Amazon Music's Breakthrough Electronic editorial playlist
150+ shows in USA, Canada, Germany, UK, Czech Republic
Opened for Future, Run The Jewels, and Alchemist
As creative director, he's worked with VICE, Samsung, American Express, AT&T, Diageo, Bacardi, and Under Armour