"Remedy is a dystopian rnb track with a universal message for us from the divine to heal ourselves and come correct."

Reeta Loi
THE RELEASE
Release Schedule:
Jul 18th, 2022
wrote Remedy in LA on the night before the very first lockdown in 2020. The world has changed since then but the words I recorded that night feel more relevant than ever. I finished the track in my London studio and it brought me back to production and developing my sound into something with more form and structure than my previous more experimental work in my 2018 EP 'Ek'.
I've been on a journey to find my voice and message as a queer Indian woman and my time in Kerala, India a few years ago helped me land back in my voice, singing and playing acoustic instruments again after some years focused on production. Remedy is a unification of my message, my singing and my production and is the track I am most proud of so far. To be able to bring all these parts of myself together and share them in this way feels very special and has been a lifetime's work.
THE ARTIST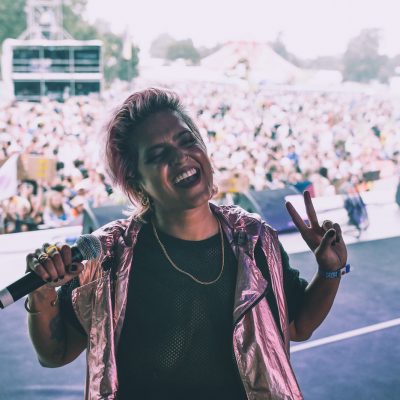 Reeta Loi
Reeta Loi is a powerful storyteller with a universal message. A singer, producer and spoken word artist with a reputation for disrupting the status quo. Whether as the Forbes100 Founder CEO of global movement Gaysians, or fighting for legislation change in India, or uncovering and shutting down a gay marriage scam in her VICE documentary, shifting the media landscape at Gay Times and taking the stage at TEDxLondon and festival stages around the world including Mumbai Pride. Reeta is clearly on a mission to be the remedy the world needs and her work inspires us to do the same.
Over 2 million views of the VICE documentary
Forbes' "100 Women Founders In Europe To Follow" (CEO of Gaysians.org)
TEDx London Curator, Speaker and Performer
Gay Times cover star and Contributing Editor changing the media landscape
Face of global H&M Pride Campaign 22 and Body Shop global campaign Winter 21/22
Previously featured in Clash, GQ, gal-dem and playlisted by BBC
Works with Burberry, Dr Marten's and other leading brands
"Remedy" was played at the Dr Marten's 'Music, Pride & Protest' panel that Reeta spoke at this Pride month
Has been Sponsored by Converse for release and tour
Released on BBE's "Exit Music: Songs for Radioheads" alongside Meshell Ndegeocello, Sia, Cinematic Orchestra, Matthew Herbert and Mark Ronson
Currently on Channel 4's "Where have all the lesbians gone"