"Creating music to me has always been about painting a sonic picture, taking the listener to another place for a brief moment. I felt that during these strange, rather dark times, everyone could appreciate a song that breathes hope and peacefulness, so that's what I tried to bring with "Shade": a shelter from the sweltering heat of the burning sun."

Poldoore
THE RELEASE
Release Schedule:
Jan 9th, 2021
"Shade" turns mid-winter melancholy on its head with an aura of chillhop inspiration. A collage of musicality and crisp hip hop vibes bring a glowing warmth for the pitch dark; shade for the sweltering sun. The chillhop state is laid down by a true veteran, Belgian producer Poldoore, who's proven his voice in the worlds of sample-based instrumentals, heavy-hitting electro hip hop, ambient chillhop and beyond.
Thomas Schillebeeckx AKA Poldoore hops on Stereofox Records for the first time with a track he found a flow state in. Despite his meticulous workflow, "Shade" was tracked over the course of two days and is packed with colorful instrumentals, warm synth production, and hip hop drums that move us forward.
THE ARTIST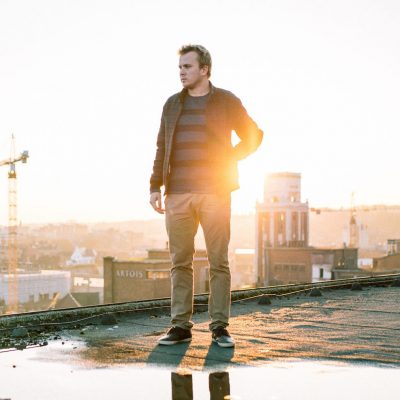 Poldoore
With a total of over 130M streams across the board and a long touring schedule, Belgian producer and DJ Poldoore's music has always appealed to a broad demographic around the world. Through the meticulous use of his home studio full of analog curiosities, while also relying on sampling and chopping up live instrument recordings, Poldoore has over the years developed a unique sound that seamlessly bridges numerous musical styles and eras, and draws the listener into a constantly moving auditive soundscape.
featured on Noisy, Rolling Stone, EDMtunes, Indie Shuffle, Majestic Casual, ThisSongIsSick
More than 70M streams on DSPs
Featured on 30+ editorial playlists by Spotify, Apple Music & Deezer
synchronization deals with brands including Sony, Mob Kitchen, Samsung, Pioneer, Food Steez, BX Brussels by Vincent Kompany and VRT.
nominated at the Red Bull Elektropedia Awards in the Artist Of The Year, Breakthrough Artist Of The Year and Album Of The Year categories in 2014
Performed live in more than 15 countries around the world – USA, Germany, Belgium, Netherlands, UK, France, etc.