"I wrote all of the songs on the Gap summer EP with my feet in sea and a laptop in my lap. I love making beats and this release is my beatmaker debut, with the help of another 3 wonderful producers.

All of the songs are reflections of my journey so far and my desire to change and go places. The EP starts with a break up (Break Up with U), goes trough a little bit of irrational jealousy (That Girl), then the sweet release of finally being free and okay on your own (Gap Summer), followed by flirtatious enjoyment (I Love Me, I Love Boys), falling in love again, but being able to be strong (Born In Debt) and finally – getting up and doing all of the things I said I'd do (Lazy Baby Fuck)."

Mila Robert
THE RELEASE
Release Schedule:
Aug 4th, 2022
After connecting with the Stereofox team in 2022, the singer joined the label in order to explore this new direction in sound (and language). A blend of playful bedroom pop, neo-soul and r&b, the release is sprinkled with a scent of that classic vintage soul.
The Gap Summer EP concentrates on women's freedom and independence. It contains 6 songs and all of them has different messages. The project is produced almost completely by Mila Robert. She is the main music producer of the songs, which is something very rare in the industry and it's the first musical project in Bulgaria produced mainly by a woman.
"I've been singing all my life, but when I was a kid I sucked, but kept on trying and around 7-8 years old the things got better. I've always been obsessed with albums, MTV and grabbing the mic on a birthday party. Never missed singing at a school concert later on. Started playing the guitar at 13 and around 15 – writing songs and busking, then 16 – began singing and playing in clubs all over Sofia. Ever since then, almost 10 years now – I have concerts every month and I enjoy it more and more with every gig. I've built my BG career with bravery and perseverance and I love every step of it, but now it's time for something new.", shares the artist.
The first song is called "Break Up With U" and it's a story about a stagnant relationship that has to end. Mila wishes her ex the best and sings about his desire of to find another girl, more compatible with him. The second song is called "That Girl" and it's about the girl's tendency of compare, increasing drastically because of social media. How most girls are so fragile with their appearance and often feel
less attractive than others. The message of the song is that every girl it's beautiful in her own way and they all deserve love.
The EP title track tells a story about a girl who is ready to do new things. A girl who's happy with what she has, but she's also ready to be brave and experience life freely. It encourages the listener to do the same. Its follow-up, "Boys" emphasizes on the women's right to love themselves and to be okay with being single. The song also has an LGBTI rights reference that states that all us as diverse as we are – are the future of love. The main message of the song is to be completely okay with who you are, no matter what. The fifth song is called "Born In Debt" and it is about the fact that women can be fully financially independent and even take care of a man. It paints a picture of the woman working, bringing the money home, and the man staying at home and cleaning. This hyperinflation is there to prove that the times have completely changed and to show how comically it could be to have this sort of belief about humans pressed upon gender.
The EP ends with "Lazy Baby" and it's a gentle motivational speech. It encourages the listener to get up and do the things he wants. The song emphasizes the fact that a person can't ever "rely on
luck" and has to work instead. The idea of peace is to make the listener feel loved and understood, but at the same time motivate him to follow his dreams.
The sonic universe of Mila is perfectly glued together thanks to the help of talented visual artist and producer Joro Peev, who is responsible for the visual identity of most of Mila's work and will be directing all videos planned for the release.
THE ARTIST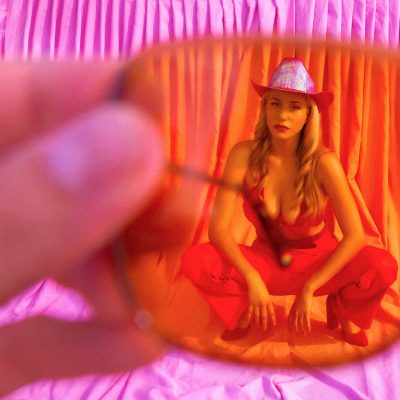 Mila Robert
Mila Robert is a Bulgarian singer, actress, and painter. She began singing and playing the guitar at the age of 13, and she also plays on ukulele and kazoo. A graduate of Sofia's National Academy for Theatre and Film Arts, over the past few years Mila managed to win over thousands of fans with her specific voice and creative, often colorful vision. She released her debut LP Egotrip in 2020 which knocked out more than a million streams.
featured by Iggy Magazine & Acidstag
more than 1M streams on DSPs
25k subscribers on YouTube and videos with hundreds of thousands views
Forbes 30 under 30 2021 Bulgaria
Album and debut nomination BG Radio awards
Lady Artist of the Year 2019/2021
Golden Ducks Woman of the Year Nomination 2020 Grazia magazine