"What We Seek is a tale of going through the motions. The feelings of wanting something, having it and letting it go."

Gnarly
THE RELEASE
Release Schedule:
Sep 29th, 2022
After her previous EP release with Stereofox, with the eponymous track "Blossom" also being featured on Spotify's lofi beats, Gnarly is taking a new direction. While her previous project was dedicated to Spring, Gnarly's new EP is coloured by the melancholic nuances of Autumn. Translating sweet sadness into a beautiful sonic canvas, the four tracks represent the emotional journey of longing for something, receiving/achieving it and then letting it go.
The first track from What We Seek is the ambient-inspired intro "Longing", light and mood-setting, like a gentle scent of perfume, swirling around. With its subtle Asian flavour, it eludes the dreamy excitement of forming a wish and longing for something.
"Don't You Feel It Too", the second track from the project, encapsulates the overwhelming gravity force between one and the object of one's desire and the slightly painful insecurity it creates.
With its touching melodicism, the third & focus track – "Here For Me", celebrates in a rather nostalgic way what has already been received or accomplished. It's a reminder that sometimes what matters more is the marathon itself and not the reward, with a new goal always rising on the horizon.
There's a certain relief in not being controlled by an obsessive desire and "Au Revoir" captures exactly this state. The final track of the EP carries the feeling of closure and expresses the determination to move on from what once was both a dream and a burden.
THE ARTIST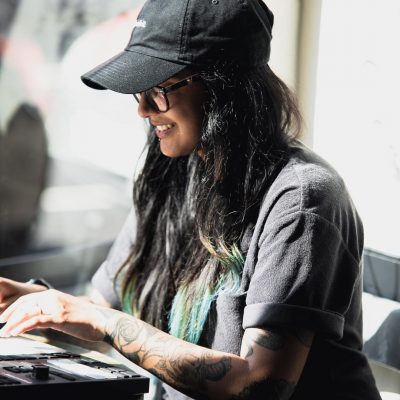 Gnarly
Featured on a number of Spotify editorials like lofi beats, Jazz Vibes, and Chillout Lounge
Support on Apple's BEATstrumentals
3M+ streams on all DSPs combined
Brand partnerships with Native Instruments, Akai Professional, Melodics, Bandlab, Slate Digital, AIAIAI, Rhythmo, Artiphon, Redbull Music, ROLI/LUMI, Pioneer DJ, Spitfire Audio, She Knows Tech, Reverb
Has been the Lead Mix & Mastering Engineer for the UK Beatbox Championships post-production since 2015 and worked with World Champions The Beatbox Collective on sync projects featured on national TV
Performed at notable events such as Glastonbury 2022, Dialled In Festival (with Anoushka Shankar) 2022, Sample Music Festival at MusikMesse in Frankfurt 2022,  Citadel Festival 2018, Lovebox Festival 2018, Music Producer Convention in Paris 2019, Glastonbury Rumshack online 2020, Audius Festival Online 2020, Southbank Centre and Elbphilharmonie with Nikita Gill 2021
Part of SHE – the first  all-female rap songwriting camp in Berlin
Winner of the first edition of Beat Masters at Red Bull UK with dancer Omni
Featured on 3 all-female instrumental compilations ( Beat Queens, Nuthin' But A She Thang 2, Salad Girls) with an upcoming release as part of All Things Considered Vol 2 compilation, released on Ta-Ku's label 823 and Butter Goods