"Forget About Me is the title of the first EP in the double release, when I was writing these tracks I've been battling chronic pain and gastrointestinal health issues, I've been in and out of hospitals and on/off my death bed losing over 130 lbs barely able to eat any food at all. I felt like I was losing who I was as a person, lost many friends, ended very happy relationships with people because I felt like a burden and that I couldn't be loved. I think the best way to express myself was to search deeper within myself and to let go of the person I was trying to hold on to (forget about me) meaning to just allow myself to grow into the person I need to become during this new time period of healing."

"I've Grown refers to a time of less anxiety, acceptance of self, and acceptance of losing old friendships and relationships because of my changes for bettering my own health/mental health. I had to put a lot of myself behind myself to find the core of who I was really meant to be. Every track is meant to build from the first project almost as if I was uneasy or unsteady and then come down as I find my center and my rest in the second EP."

Sofasound
THE RELEASE
Release Schedule:
Feb 17th, 2022
Genres:
Electronic, Beats
A few years ago the Miami-based artist had a devastating encounter with misfortune and for him, everything would change. He started to experience an ongoing battle with chronic pain and gastrointestinal health issues. This not only left him in and out of hospitals, but also on/off his death bed. As he was gradually losing a sense of self he was simultaneously losing meaningful relationships – in short, it was an incredibly difficult period in John's life.
It was during this time when the tracks for Forget About Me EP were created, and ultimately it serves as a sonic snapshot of that period. Then, he needed to evolve as a person in order to deal with all the pain and it truly reflected in his music, especially in the lead single "Searching for Me". The tracks carry the essence of Sofasound's while elegantly decorated in multi-colored electronic textures that are bound to take the listener on an emotive journey.
Sofasound's follow-up project I've Grown EP comes right after a tumultuous period made up of depression, losing loved ones, and chronic pain that sent the producer in and out of his death bed. Whilst his previous EP Forget About Me was created as a catharsis to cope with all of the anxiety and pressure, I've Grown EP portrays Sofasound's (aka John J Sofia) journey of self-discovery not only as an artist but also as an individual. During the creation of the project Sofasound's health gradually blossomed while his anxiety withered with the acceptance of what's lost. These changes contributed to his creative process immensely. The single "Into the Night" reflects a calm, introspective mood towards the listener thus setting the tone for what's to come throughout the EP. He's joined by long-time collaborator Floro on "Horizon" and thematically this is a nod to the close friends who have stuck with him, and sonically it's brimming with a dreamy sense of optimism.
THE ARTIST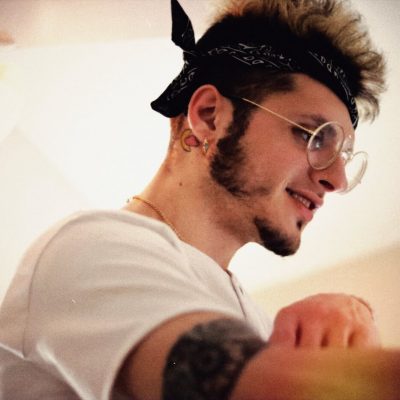 Sofasound
Sofasound is the kind of artist who is radically open with his audience, and for them, this establishes a deep bond with not only his sound, but also his fascinating story as an artist.
Part of Riot Game's League of Legends Sessions: Vi release alongside Laxcity, Tennyson, Engelwood, and many others
Tracks played in live sets by Alison Wonderland and San Holo
Featured on Amazon Music's LoFi Hip Hop
Featured on Spotify's Fresh Finds, Chill Tracks, lofi beats, Lounge – Soft House, Coffee Beats, Electronic Focus,
Supported by Apple Music on their Pure Focus and Pure Chill selections
Coverage on Acid Stag & Electric Hawk
Recent live play in LA with Oshi, Sober.Rob and Chromonicci
"Searching For Me" ranked #91 Chillest REVEALED: 2022 Chillest 100 by SBS Australia