"Dragon Curves is about growing, maturing and coming to terms with the the basic struggles of life. I like to think of the musical elements of my songs as characters in their own little worlds, with the main character of "Dragon Curves" being the main synth arp, as it goes on its journey; growing and adapting to try and fit in with the perilous world it finds itself in. The arp never quite finds its place and ends the song as it began, alone. The "Dragon Curve" is an idea in mathematics that refers to folding a piece of paper over and over, and then noting the peaks and troughs. If you arrange the folds into right angles based on the peaks and troughs it produces a seemingly random geometric pattern, but no matter how chaotic the pattern is, there is always a pathway that takes you from beginning to end."

Oporia
THE RELEASE
Release Schedule:
Nov 11th, 2022
The name Oporia (aka Ben Fennell) has been ringing louder and louder across the underground electronic scene in the UK, and the producer's fierce new track "Dragon Curves" exhibits why he is on the radar of so many leading tastemakers.
With a style that's inspired by the likes of George Fitzgerald, Ross from Friends, and Jamie XX… Oporia's rise to stardom is one that has been beautiful to watch. With previous support from BBC Introducing and Chris Luno, along with 2 Spotify editorial placements, the UK-based artist has been growing a steady fan base that's craving more of his emotive brand of Electronica. His Garage-influenced single "Dragon Curves" appeases the listener not only sonically, but also thematically. This experience revolves around growing, maturing, and coming to terms with the harsh struggles of life, thus making "Dragon Curves" one of the most personal tracks in his discography. Oporia's knack for florid sound design also adds to the narrative. The shimmering arp we're acquainted with was made to never quite find its place and ends the song as it began, alone.
This is the first appearance of Oporia on Stereofox Records and his debut brings a melancholic touch to the realm of alternative electronica.
THE ARTIST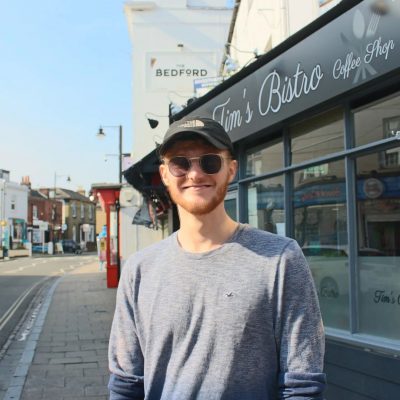 Oporia
After producing for more than 7 years, the process has become a major factor in recovering from mental health struggles for the young producer.
BBC Introducing support
Previous placements in two Spotify editorials (Deep House Relax and Planet Rave)
Support in Chris Luno's YouTube DJ set for "Irusu"