"The Woodlands EP wasn't a typical project, born from a competition to remix and use my samples in partnership with Native Instruments, these tracks are the ones that really stuck out over the other 100s of submissions. And that's really saying something, we received some insane tracks and each one of these was selected for really taking that next step up in manipulating the samples, creating their own unique soundscapes and catchy grooves. The project takes super interesting twists and turns as we listen through each of these unique takes on the samples."

Mondo Loops
THE RELEASE
Release Schedule:
Jun 15th, 2023
Introducing Woodlands EP: A Melodic Journey into Nature and Hip Hop Nostalgia
After a couple of successful releases on Stereofox Records, including his debut on the label Late Night Tapes EP, Mondo Loops & Stereofox teamed up with Native Instruments for a beat challenge on their platform Metapop, to celebrate Mondo Loops' latest sample pack Organic Lofi Hip Hop. Combining impeccable warmth and distinct sound design, Mondo Loops' sample pack features a meticulously curated selection of piano and guitar loops, drums, foley, and ambiance
The result was over 300 tracks, 5 of which won their place in the official release of Woodlands EP, together with Mondo Loops' own "Weirwood Tree", creating a cinematic & melancholic experience that would transport you deep in a magical forest.
Arbor Avenue: "When I decided to produce lofi music in early 2020, Mondo Loops was one of the first producers I discovered. His YouTube channel was a great resource for me to build upon my existing guitar skills and learn to find my sound without the use of samples. So when I was writing this track, I wanted to emulate his style and incorporate as many organic elements as possible. Almost all the sounds used in this track are played by me, with the exception of a few samples of his. "I Hope We Meet Again" is about two people who have gone separate ways, but still hang onto the hope that they will one day reconnect."
Arbee: "I thought the sounds I used sounded like a night time ambiance near a forested area. The idea was using the "organic" sound pack which is maybe why I feel it is connected to the forest. Wanted to focus on that night vibe with a more ambient take on the samples, just a light drum and some of the processed Mondo Loops sounds."
Sam Cisco: "I was out in California working on this one, and that particular week there was a run of exceptional golden hours late in the afternoon. The way that sunlight hit the mountains and the forests got into me, and I had to put into a track. Huge thanks to Mondo Loops for creating the sample pack and for all the inspiration over this last year."
Mezro: "I was trying to capture the feeling of nostalgia hence the title "Missing you". I always thought that an acoustic always sets that kind of tone and I figured some soft piano and slide guitar would fit perfectly to match the overall vibe. So I plugged my Les Paul and a patch on Keyscape and starting playing until I heard something that I liked. I didn't want to change the original sample so instead I kept adding layers to keep the flow of the track interesting."
Jing3: "As a foreigner, winter 2022 was my 7th winter in Cheonan(a city in Korea). I added wind sound (recorded in my room on November 29th, 2022) and water dropping sound (In winter, we have to let the water drip from faucet to prevent pipe from freezing in Korea) to let the listeners feel the winter in Cheonan. This track is for the people who feel homesick like me."
THE ARTIST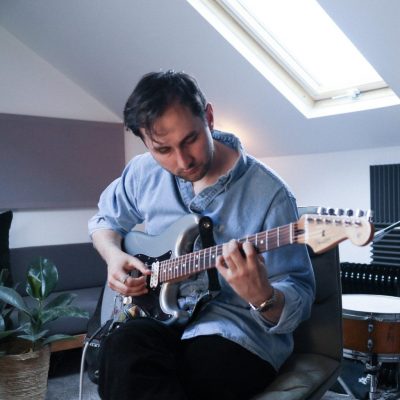 Mondo Loops
Mondo Loops, an established North West England producer, is renowned for his gorgeous guitar melodies and unique approach towards lofi. What started off just as a YouTube channel for guitar tutorials, evolved into a full-time job as a music producer who's worked on projects for MTV & Universal Music.
50M+ streams across all major DSPs
Featured on a number of Spotify editorial playlists like lofi beats, lush lofi, and Jazz Vibes
Featured on Apple Music's BEATstrumentals, Bedtime Beats, and Creative focus
Added to more than 100k independent fan playlists combined
Worked on projects for MTV & Universal
30k subscribers on his YouTube channel for tutorials