"Soul Feather is my first album release since I came to New York from Hong Kong just over a year ago. This endeavor marks my first release that doesn't shy away from samples, and hopes to show how they augment my sound through manipulation and guitar work. The EP toys with the struggles of finding home and belonging and highlights a more upbeat corner of my catalog, compared to my previous focus on lo-fi and ambient sounds."

Metic
THE RELEASE
Release Schedule:
Apr 27th, 2021
Genres:
Beats, Jazz, Lofi
When a world traveler finds his home in soulful music…
A cloudy concept grappling between firm roots in Hong Kong and new sprouts in New York, the "Soul Feather" EP infuses lush guitar elements with sample-based soundscapes, telling a story about traveling, self-discovery and artistic expression.
Meant to be a gapless sonic journey, the EP captures the musicality of the emotions behind a real-life travel adventure. It features 4 full tracks sandwiched by 3 loose grooves to glue the sonic storyline together. Sailing through upbeat sounds, which often drift off into the realms of dreamy soundscapes, the tracks on this EP flow seamlessly into each other, making for a smooth musical course all throughout.
Beginning with the rush of living in a new city, right off the bat "Change of Environment" will encircle your ears with ambient sounds of daily urban ambiance and hopeful acoustic guitar sparkles. After encapsulating the nomadic excitement behind a new city lifestyle with "Nomad Boogie", the EP takes a step back to evaluate the sense of nostalgia and to question one's belonging. The track also harkens back to the origin of the name Metic. It stems from a synonym search on the word "Nomad", while also being a nod to the neighborhood of Nomad which Jonny (a.k.a. Metic) lives in. Conveying feelings of liberation of the soul in a new setting, akin to the lightness of a feather, the melody of the title track is bound to get stuck in your ear – uplifting, but with a pinch of melancholy. To wrap up the whole continuous listening experience, "Fresh Air" will put you in a dream-like state. Through its fair share of reverb, the end of this journey symbolizes the pensiveness of ruminating these days away from home.
THE ARTIST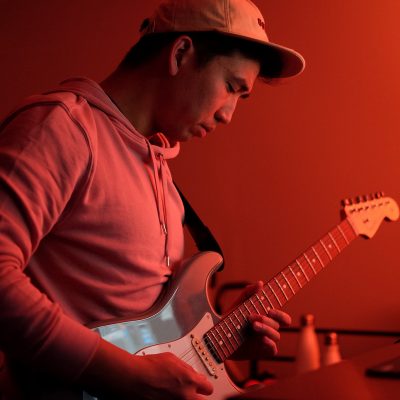 Metic
Metic fuses soulful guitar grooves with laid-back hip-hop beats. While his playing is rooted in blues and fingerstyle guitar, his productions are informed by 90s boombap, G-funk, and trip-hop. A frequent collaborator and a nomadic soul, the Brooklyn-based Hong Kong native continues to draw inspiration from both cities.
Organized Lofi Festival (NY) and a number of live shows in both New York and Hong Kong
Featured on Apple Music's Creative Focus, Pure Chill, and Lo-Fi Jazz selections
Featured on 10+ Spotify editorials including lofi beats, Focus Flow, Shimmer, and lofi cafe
Collaborations with Axian, fnonose, Noé Mina, DYVN, Alberto Droguett & more
Past features on Thissongissick, Indie Shuffle and #1 on Hype Machine