"I wanted to combine orchestral elements with some deep vocals and bass to create an intense mood. Doing and listening to "Maracuja Juice" feels to me like being at the beach in late afternoon. It's windy, a storm is coming, and you look at the waves of the ocean. A lot of my inspiration is found at the ocean, and I like to use waves sounds as a background to my tracks, like in this one. On a lighter mood, maracuja is one of my favorites fruits here in Brazil so it inspired me the name, and maracuja juice is delicious to drink on the beach."

irons
THE RELEASE
Release Schedule:
Jan 4th, 2023
As of late the hype behind French lofi producer irons has begun to heighten in the beat scene thanks to his consistent quality output. With "Maracuja Juice" and "Pandora", irons continues his impressive run and puts listeners at ease with his smooth aesthetic that's brimming with emotion.
Even though irons (aka Simon Rivière) has been releasing music since 2020, the year 2021 marked the year he forged his classical-influenced signature sound. His garden-fresh aesthetic has led to placements in Spotify editorials such as lofi beats, lofi + chill, and lofi sleep. For now, the French producer sits on over 300k monthly listeners on Spotify and looks to surpass this with a string of outstanding releases over the course of 2023. Irons opens up the new year with the breathtaking single "Maracuja Juice" – a lofi gem inspired by the serenity and beauty of the ocean before the arrival of a storm. This moody atmosphere is captured by an orchestral touch paired with the presence of soulful vocal samples for a deep yet eerie listening experience.
THE ARTIST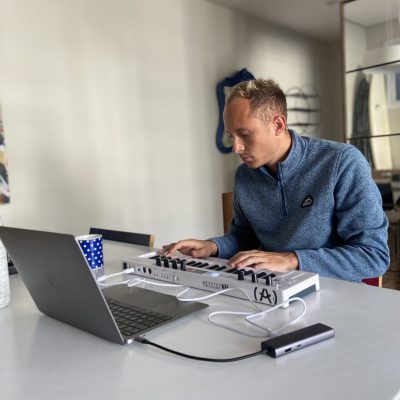 irons
Irons is a French producer based in Brazil. He started playing classical piano as a child and that was his gateway into music. After a few years he stopped his journey with classical piano and dived into the world of making 'type beats' and remixes.
Support on a number of Spotify playlists such like lofi beats, lofi + chill, and lofi sleep
Added to 10k+ independent playlists