"Inspired by the famous myth of Sisyphus, the Greek King punished to eternally push the boulder up the hill, this release speaks to the glory in that eternal loop. With Daft Punk inspired synths, thumping disco drums, live strings, and additional vocal work by UK soul wonder Slowe, "Sisyphus" turns the classic myth into a summer anthem about the perseverance in the everyday."

Ethan Mark
THE RELEASE
Release Schedule:
Jun 16th, 2023
With features on Fresh Finds R&B and Toronto DJ Bambii's Track IDs playlist, Canadian producer Ethan Mark delivers his debut Stereofox single "Sisyphus". Showcasing his unique blend of slow-dance, neo-soul, and nu jazz, Ethan captivates listeners with a colourful chord progression, punchy drums, sample chops, and infectious grooves.
Inspired by the myth of Sisyphus, the Greek King eternally tasked with pushing a boulder up a hill, Ethan Mark's song explores the notion of finding glory in the never-ending loop. The track combines Daft Punk-inspired synths, thumping disco drums, and enchanting live strings from his friend, Maga Clavijo. To add an extra layer of soulful allure, the talented UK singer/producer Slowe (signee of Tru Thoughts) lends her delicate vocals to the composition. Together, they have created a vibrant summer, slow-groove anthem that celebrates perseverance in the face of everyday challenges.
Ethan Mark's musical endeavors are a testament to his determination and creativity as an independent artist. From his small one-bedroom apartment in Toronto, Canada, he records, produces, composes, and mixes all his music on the same trusty laptop. His unique sound has not only captivated local audiences but has also fostered collaborations with talented artists from the United States and the United Kingdom, further solidifying his global appeal.
THE ARTIST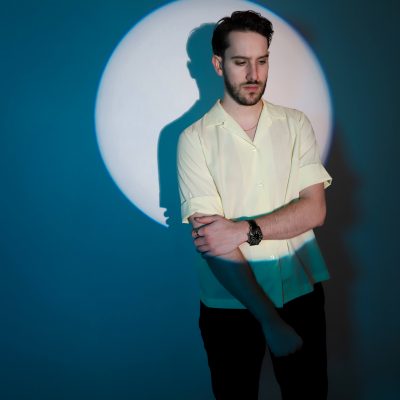 Ethan Mark
Ethan Mark is a Canadian producer and multi-instrumentalist known for his innovative blend of neo-soul, jazz, funk, and r&b. His music showcases vibrant chord progressions, punchy drums, sample chops, and infectious grooves. Ethan's musical journey began humbly, armed with an old laptop, music software, and an unwavering passion for sound and genre exploration. Through dedication and countless hours honing his craft, he has emerged as one of Toronto's up-and-coming acts.
Featured on Spotify's Fresh Finds R&B and BAMBII's Track IDs
Supported by curators like ThisSongIsSick, That Good Sh*t Music, Somewhere Soul, DMY, Green Tea Studios LA, Unity Records, Bristol Funk
200k+ streams across DSPs
Collaborations with artists like Chara Kai-Le & Slowe