"Does It Matter If You Do? is an internal conflict of love and torture at the same time. The question itself asks whether or not anything is worth fighting for or if anyone is worth fighting for. It's both a bleak and promising look at existence, written at a time when I was coming out of having really dark thoughts about myself. The title itself is about realizing that life is a series of questions and only you can control what has meaning and what doesn't."

Kilamanzego
THE RELEASE
Release Schedule:
Apr 22nd, 2021
Genres:
Electronic, Beats
Even though the latest track by Kilamanzego is presented with the absence of vocals and lyrics, she still seamlessly acquaints us to feelings associated to deep introspection in a cohesive voyage-like manner.
"Does It Matter If You Do?" shows off the more tranquil side of Kilamanzego's eccentric style which we caught a glimpse of on "Meditate" – her last single which stunned many thanks to its calming nature. This new single treks a similar path with darker undertones shadowing its theme as it deals with whether or not anything is worth fighting for. The paradoxical beauty of it all is the fact that we're enveloped in glistening textures and dreamy tones throughout the track despite the murky theme, thus providing a two-sided listening experience – thematically and sonically.
Kilamanzego soaks up influences from all over considering that she has Ghanaian roots and has lived in different parts of the world. She has even been praised by Bandcamp Daily and NPR for continuously blurring the lines of genre, to the point where she has forged her own lane and is seen as an inspiration to young female producers.
THE ARTIST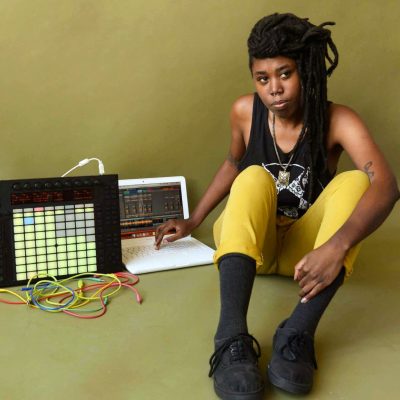 Kilamanzego
Emerging from Philadelphia, producer Kilamanzego (pronounced Kil-a-manz-ego) commands a similar attention with radiant synth textures and intricate glitched harmonies that captivate – almost coercively. Intertwining her Ghanaian heritage and punk-infused demeanor, her unparalleled musical identity has garnered recognition from Bandcamp Daily and NPR.
Music synched in Fortnite
Performed on stages at Shambhala Music Festival and Red Rocks and opened for Clozee
Featured on Spotify's creamy, Pixel Garden, and Genre Glitch editorials
Interview on Bandcamp's website