"Changing the perspective towards nationality, love, freedom of thought and taste is among the most important themes for us in recent years.

"Himawari" is a song meant for all music lovers around the world. As a composition by two artists from three different racial backgrounds – India, The Netherlands and Japan – we hope that it will inspire a more positive attitude towards diversity."

Komachi & Basmati
THE RELEASE
Release Schedule:
Apr 13th, 2022
With their new track, "Himawari" ("sunflower" in Japanese) Natasha and Komachi aim to employ the peaceful character of lofi music in order to convey a deeply positive message of unity. The artists with Dutch-Indian and Japanese roots chose the sunflower (Himawari) as a symbol of hope and a messenger of peace. Pointing oneself in the direction of light is a choice one can make, the same goes for the decision to appreciate cultural/ethical differences – it's all related to thinking and acting from a place of love, instead of a place of hatred.
The track combines influences from the lofi and electronic aesthetics, offering an incredibly peaceful sonic scape. Demonstrating the producers' ability to achieve a balance between their music worlds, it is a delicate but impactful collision of touching ukulele motives, elevating pads, and soft yet driving percussion.
Blissful and uplifting "Himawari" is the Spring-welcoming tune, which will instill a feeling of contentment and optimism within any listener.
THE ARTIST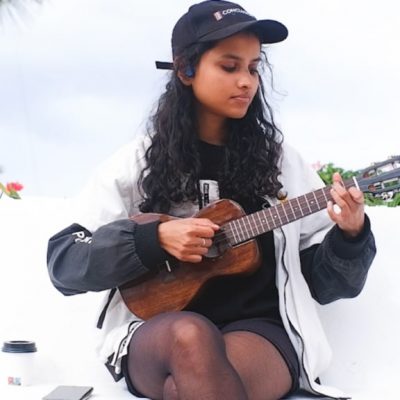 Basmati
Basmati – the new moniker of singer, songwriter, producer, and instrumentalist Natasha Ghosh, is meant to pay homage to her Indian roots while continuing her exploration in the realms of instrumental music.
1.5M+ streams on all DSPs
Editorial placements on Apple's Bedtime Beats
Support on Spotify's Lazy Chill Afternoon and Feel Good Beats
Komachi
Komachi entered the lofi scene in 2021, after 16 years of releasing electronic music under another moniker. As Komachi, he's been consistently claiming his spot in the scene with a number of carefully crafted compositions, which carry tranquility and immerse the listener in a dreamy, peaceful lofi heaven.
Featured in 30+ editorials on Spotify including lofi beats, and lofi sleep
Added to Apple Music's BEATstrumentals, LoFi Japan, and Pure Focus
Support on Deezer's LoFi Japan